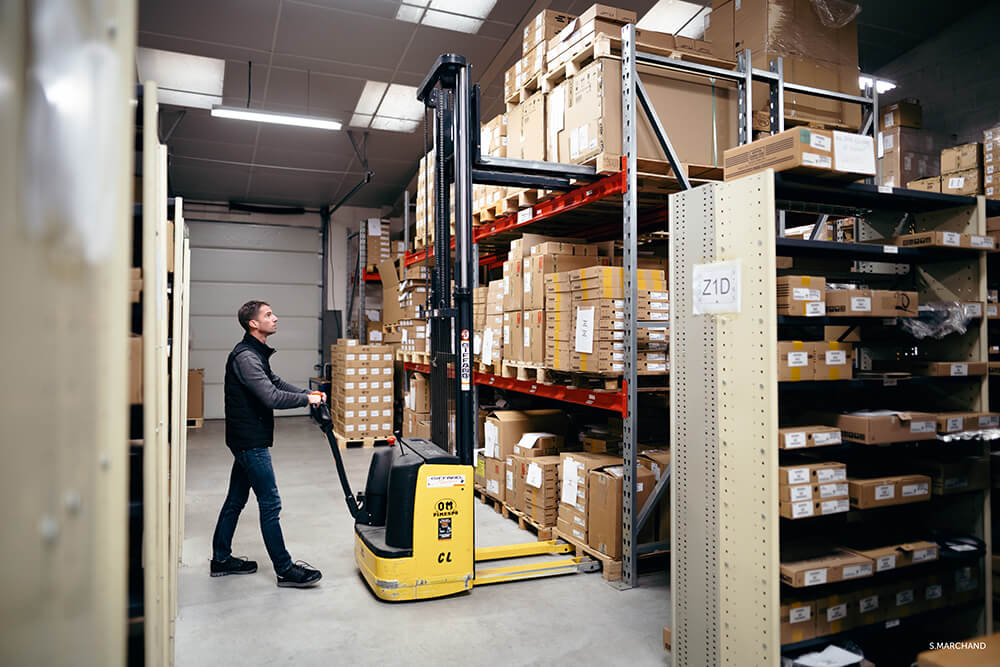 Supplying, receiving, storing, delivering: here we are in the heart of Sorelec's activity! In our 1000 m2 logistics center, your components are pampered, identified, prepared and packaged with the greatest care by our logisticians who work in compliance with perfectly defined procedures.
This area is entirely dedicated to electronic components and complies with the requirements in terms of temperature, humidity, and protection against electrostatic discharges (ESD).
A large number of references are permanently stored and constitute our "runners" stock. For these components, an order placed before noon can be delivered in less than 48 hours throughout France, and within 72 hours abroad.
Sorelec also offers turnkey logistics solutions by managing safety stocks for its customers: a comfortable way to bypass delay concerns.
Moreover, Sorelec rigorously selects its carriers in order to ensure the greatest respect of deadlines and the quality of deliveries.

For several years, we have been developing EDI exchanges with our main suppliers, an efficient way to optimize logistics flows. EDI is a precious tool for the security and speed of data exchange. Overall, our logistics management process has been largely automated and allows us to be reactive in delivering our customers.
·       Product reception : all products are scanned at reception in our warehouses and the suppliers' data are recorded in our database to ensure the traceability of the parts thereafter (batch numbers, code dates, certificates of conformity, etc.).
·       Tracking of parcels : on the shipping side, the automation of the preparation by a scanning system brings a complete traceability of the product until the final delivery to the customer.
·       Specific labelling : finally, we provide tailor-made labelling solutions according to the requirements of some of our customers in order to meet their own logistic constraints.